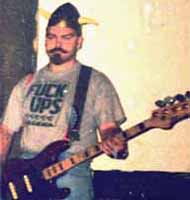 A bit about myself:

Obeys the name "TV", 57 years, lives in
Oslo, born in Elverum, rised in Follo,
bass-player, datanerd, cartoonfrik,
handball-hooligan, record- and video- slave.

Works with service/support in a company
that was named TrioVing a.s.

TrioVing a.s was founded in 1864, is the largest manufacturer in the
industry and leading supplier of lock cylinders, locking systems, locks,
fittings, electromechanical Locking, access control systems,
door automation, etc. for securing and control of doors, gates and
windows.

TrioVing is affiliated to ASSA ABLOY Group, the world's leading group
in the production and supply of locks and associated products.






Fuck Ups:

A lot of you may have searched for the band where I did play bass, so I
have dedicated a lot of my page to "Fuck Ups"!

In fact, this is the only reason that I try to translate these pages to
English! (My English isn't good, but I guess Your Norwegian isn't either?)

You may look at pictures of, -and read about, all our records, and
our selves. I have also encoded some of our songs in RealAudio format!

Although a lot of these pages is not complete; I will update them
whenever I (or anyone else of us) remembers the "missing parts".






Handball:

Sinse I refeer to myself as a handball-hooligan, and are born in Elverum,
there should be no doubt: Elverum Handball Men is my team! They have
done the top league unsafe for many of the "established" teams, in
several seasons. They even wan the ending-games in 1995! At the time
they are playing in the top division. (See the fixtures w/results.)

I have added the fixture w/results and rewieves, and the table at the
Elverum Handball Men -pages, and I'm trying to eventually get more
information. (Maby profiles of the players).

I have also made a little statistics at the page about the team.

Unfortunally, I will not translate these pages to English.
This is because Norwegian handball probebly isn't that interesting
to others than Norwegians...
So, You'll have to settle with the Norwegian pages.


It turns out that a couple of my relatives is at the All-Norway team!
Frank Løke is the son of one of my second cousins...
( Frank's great-great-grandfather/mother = my great-grandfather/mother )
Read more about him at The Norwegian Handball unions pages,
or at the pages of his club TuS N-Lübbecke!

And Frank's sister, Heidi, is also at the all-team!
Read more about her at The Norwegian Handball unions pages,
or at the pages of her club Gyüri Audi ETO!

Little-sister Lise are playing for the club Storhamar
The fourth Løke, Trond, are playing (?) for the club Kodal. (4'th div.?)






Football:

When my cosin, Erik Wettermark, got the job as one of the a-team
managers in Elverum Football, I thought that I might go to some of there
matches in the Oslo-area.

In the beginning of April 1999, I receved the fixtures to the team, and I
desided to add it to my pages.

Saturday 24. of April 1999 I went to see the opening-match:
Ski - Elverum.
My interest for the team had a major drop when Ski, already in the first
opening-minutes, made it through a "tumbeling" defence and made 1-0!
Fortunately for Elverum, and my interest, they got back in the match,
and wan it with the result 1-3!

So I desided to make my own pages about Elverum Football.

I have also added the other matches in 3. div. avd. 5, and the table, so
You can see how the other teams are doing too.

Unfortunaly, for the same reason as with the handball-pages, these
pages will not be translated to English!
( I've also desided not to do any updates at theese pages after the 2003-season. )






Data:

At my data-pages I will present some of the things that I'm spending most
of my spare time on. It will contain information, add-ons to games,
and small programs.
At first is my Half-Life project Dejavu.



---

Webmaster:



-Do You have any comments about my pages?
-Do You find any errors?

Tell me!